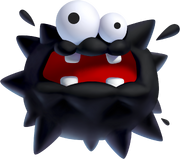 Fuzzies, also called Fuzzles, are small, black-furred parasitic creatures. They possess two strabismus eyes and large teeth. Despite displaying some level of intelligence and the ability to speak, Fuzzies are, for the most part, wild and uncivilized beings. Fuzzies have the ability to secrete webbing-like strands from their bodies, though this ability has largely been phased out in modern times.
Ad blocker interference detected!
Wikia is a free-to-use site that makes money from advertising. We have a modified experience for viewers using ad blockers

Wikia is not accessible if you've made further modifications. Remove the custom ad blocker rule(s) and the page will load as expected.