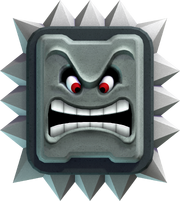 Thwomps are animate cinder-blocks found mostly in the Mushroom Kingdom. They are spike-encrusted living stones that are usually rectangular in shape and made their first appearance in the game Super Mario Bros. 3. They typically attempt to fall on and flatten or squash whoever passes below them, although some move horizontally or diagonally as well. 
Ad blocker interference detected!
Wikia is a free-to-use site that makes money from advertising. We have a modified experience for viewers using ad blockers

Wikia is not accessible if you've made further modifications. Remove the custom ad blocker rule(s) and the page will load as expected.